Our partners
Training center for aeronautical professions on the ground.
OpsForm has created a network of partners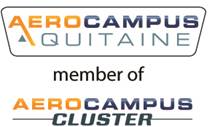 Aérocampus Aquitaine : Aeronautics and Space Campus
The Aeronautics and SpaceCampus, approved by Part 147, is unique in Europe. It offers a range of initial training courses, from vocational baccalaureate to advanced vocational diploma (BTS), through schooling or apprenticeship, as well as continuing education in aeronautical maintenance.
1st Aeronautics and Space Training Cluster: AEROCAMPUS Cluster, the first European network of experts meeting the training needs of companies in the aeronautics and space field: AEROSCHOOL, WECAIR, TELESPAZIO, Institut de Soudure, Ecole des Métiers du Drone, TAMAPLACE, Priority One Air Rescue, APAVE, UBIWAN, CGI, CPK Consult, 3X Consultants, etc.
Become a partner!
Work with us to develop the airport jobs of tomorrow!